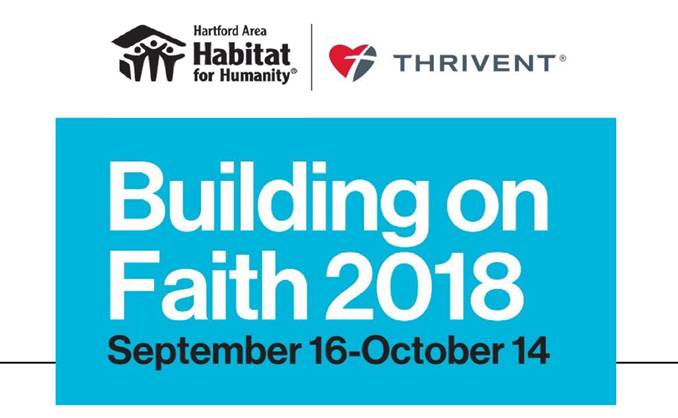 Since our beginning in 1989, Habitat has been built on a foundation of faith. Our mission is to build safe, affordable housing with people in the United States and around the world, and that comes from a desire to put God's love into action.  We are pleased to share that Thrivent has been a wonderful partner with Habitat for Humanity.  For the second year, we are hosting a Thrivent sponsored Building on Faith for Thrivent members and other Christian believers.  
September 22:  Family Fun Day
Come join us as we welcome the first day of autumn for our kick off event in Westwood at our Habitat ReStore. We will be offering "how to" workshops for Thrivent members to get you ready for your build day experience. We will also have birdhouses for your children who love to decorate. The fun begins at 11 am through 3 pm. Our ReStore is located at 121 Carver Avenue, Westwood, New Jersey.
September 29:  Habitat Build Day 
We are building in the Township of Washington where we are in the sheetrock/painting stage of our building project. Your build day begins with an 8:00 am sign-in at the construction site and goes until 2:30 pm. Details are available below under Next Steps.
October 6:  Habitat Good Neighbor Day 
We are practicing being a good neighbor in the town where we are building affordable homes for veterans and seniors.  Your build day begins at 10 am at the park(s) and goes to 2 pm.  Details are available below under Next Steps.
RSVP for the Family Fun Day or Habitat Good Neighbor Day
with the Volunteer Engagement Coordinator, 201-457-1020
Instructions on how to Register for the Build Day
Contact Volunteer Engagement Coordinator for questions on registering online at 201-457-1020.
General Questions
For more information, call Volunteer Engagement Coordinator at 201-457-1020.
September 16th, 2018 9:00 AM through October 14th, 2018 12:00 PM